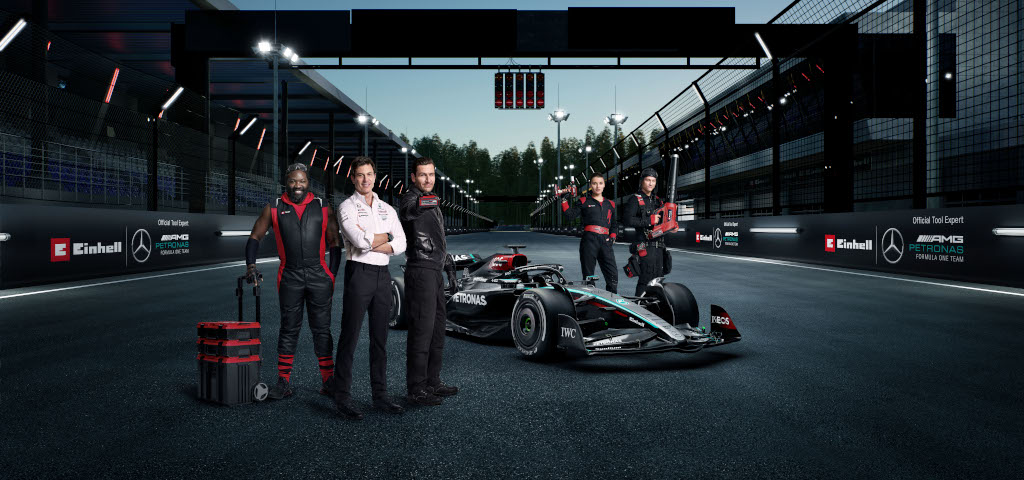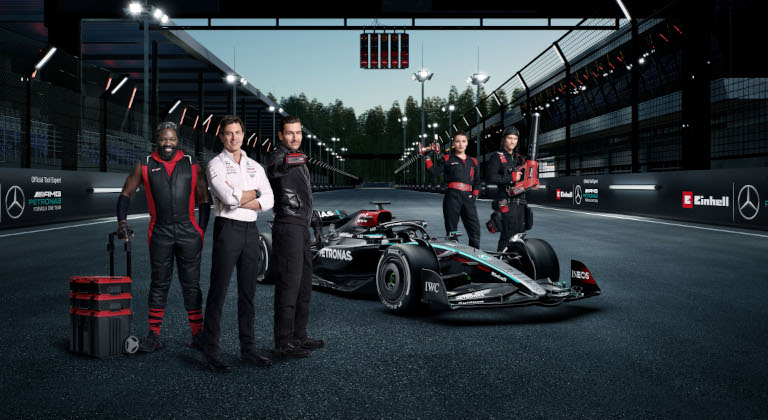 The E-Team on a mission for the Mercedes-AMG PETRONAS F1 Team
Location: Formula 1 racing garage
The E-Team from Einhell is on a mission in the top tier of motorsport! Equipped with innovative battery technology and the latest tools from the Einhell Power X-Change platform, E-Team members Frank, Skye, Mike and Crazy DIY are supporting the mechanics of the Mercedes-AMG PETRONAS F1 Team as an unbeatable quartet. Their mission is clear: they bring maximum performance to the Mercedes pit. With their expert knowledge of Power X-Change and their passion for technological progress, they partner with the mechanics to ensure that the cars can take to the track in top form.

Two partners. One mission. Maximum performance.
The E-Team's latest TV mission
in Formula I
Preparations are in full swing in the Mercedes-AMG PETRONAS F1 Team's racing garage. The black Mercedes Formula 1 Bolide W14 racing car is being prepared down to the smallest detail for its next race. Suddenly, a team of tool specialists storms the box and the garage turns Einhell red! The team is ready to support this mission. In their luggage: maximum battery power from Einhell!

Discover the new mission now!
"By using Einhell's battery-powered tools and equipment, we benefit from the latest technology for maximum performance."
Get the favourites of the E-Team
for maximum performance!
Let there be light!
Cordless light TE-CL 18/2500 LiAC
Skye's must-have for use in the racing garage: With its high-quality lithium-ion battery and an output of 2,500 lumens, this battery lamp provides particularly bright and clear illumination.

The lamp is robust and durable, so it can also be used in demanding environments. Thanks to its ergonomic design, it sits well in the hand and allows for easy handling. Bad light? There is no such thing with this lamp!
Get the cordless lamp for your home!
Stay cool? No problem with this tool!
Cordless Leaf Blower GP-LB 36/210 Li
The GP-LB 36/210 Li cordless blower is the ideal solution for anyone looking for a powerful and cordless blower. With its 3-stage adjustable, detachable tube, a blowing speed of up to 210 km/h and a battery life of up to 30 minutes, this blower is a true all-rounder. The battery-powered blower even cools hot Formula 1 brakes without any problems. Crazy what this blower can do!
Get the cordless leaf blower for your home!
Hot item for your projects
Cordless Hot Air Gun TE-HA 18 Li
With the powerful 18 V battery and a temperature of up to 550 °C, this cordless hot air gun is perfect for a variety of applications. For example, for shaping plastics in model making, for removing adhesive foils, but also for old varnish, adhesive residues and layers of paint, the cordless hot air gun is ideal. The LED display shows the selected temperature level at a glance. The built-in overheating protection ensures safety during use. With this versatility, this tool is the hottest item in Mike's toolbox.
Get the Cordless Hot Air Gun for your home!
The powerful helpers
for your pit stop at home!
Cordless impact driver for a high-speed tyre change
IMPAXXO 18/230
The IMPAXXO 18/230 cordless impact driver from Einhell is the perfect tool for quickly and powerfully changing tyres at home. Thanks to its high torque output of 230 Nm and the impact rate of up to 3,600 blows per minute, it even loosens stuck wheel nuts in no time at all. The compact and lightweight design of the IMPAXXO 18/230 makes it particularly handy and enables comfortable operation even during longer work phases. What are you waiting for?
Make your pit stop at home in record time!
Cordless cleaner for your car interior
Cordless Wet/Dry Vacuum Cleaner TP-VC 36/30 S Auto
With the smart TP-VC 36/30 S Auto battery-powered wet/dry vacuum cleaner, you are independent of any power socket and can clean your car wherever it suits you. The versatility of the vacuum cleaner is particularly practical. The device can pick up both dry and wet dirt and is therefore ideal for cleaning spilled liquids or damp interiors. The car accessories, such as the joint and upholstery nozzle attachment, also enable precise cleaning in hard-to-reach places. Brilliant, isn't it?
Get your Cleaner now!
What else might interest you:
You want to know more about the mission and the partnership? Or are you looking for more tools for your car?
Check this out!